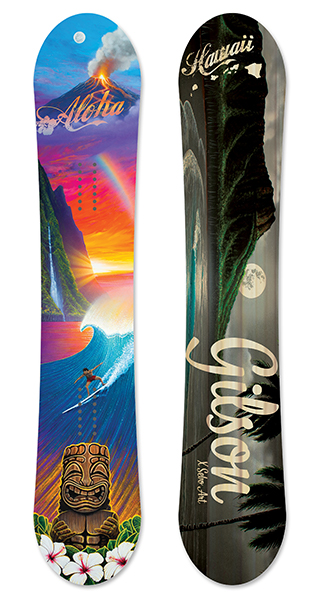 Paradise
Limited Edition All Mountain Snowboard
$565.00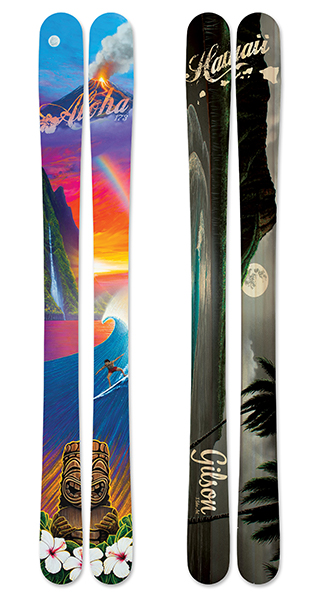 Paradise - Skis
Limited Edition All Mountain Skis
$795.00
THE SWEET COMBINATION OF SAND AND SNOW
Artist: Chirs Sebo
Using Gilson's most versatile All-Mountain designs we teamed up with Hawaii based artist Chris Sebo to create this truly spectacular Limited Edition that showcases the vibrant beauty of Hawaii. Displaying a volcano with some lava fading off into the clouds the "Paradise" makes you think you are in Hawaii while riding the slopes. A detailed mountain with a waterfall trickling down to a swell that a surfer is shredding! At the bottom, a tiki man with the iconic hang loose sign surrounded with white hibiscus flowers. This design combines iconic Hawaiian imagery. The moonrise in Waikiki shows an interesting contrast of the depth of Hawaii and what makes it truly unique.
With Gilson's Soft Edge and Central Flex design features, this board or skis will allow you to explore further and have way more fun on the mountain. Cruise through the trees, butter your nose, drop a cliff, lick the snow on a full-out carve, send it off a kicker and then take a few turns with your crew.
Experience a board or skis from the company that has people all over the world buzzing. Handcrafted, and delivered directly to your doorstep. Order yours today!

LENGTH NOSE & TAIL WIDTH WAIST WIDTH SIDECUT RADIUS
Mens 145 280mm 241mm 7.34m
Mens 150 286mm 246mm 7.85m
Mens 155 293mm 251mm 8.16m
Mens 160 300mm 253mm 7.93m
Mens 165 302mm 256mm 8.77m
Mens 165W 316mm 271mm 8.30m
Womens 140 259mm 219mm 6.51m
Womens 145 261mm 223mm 7.35m
Womens 150 267mm 227mm 7.85m
TYPE
Limited Edition GRAPHICS
Sublimated CORE
Poplar Hardwood
SHAPE
All Mountain BASE
Soft Edge & Pow Channel BASE MATERIAL
4001 Sintered Ptex
FLEX

PROFILE
10mm Camber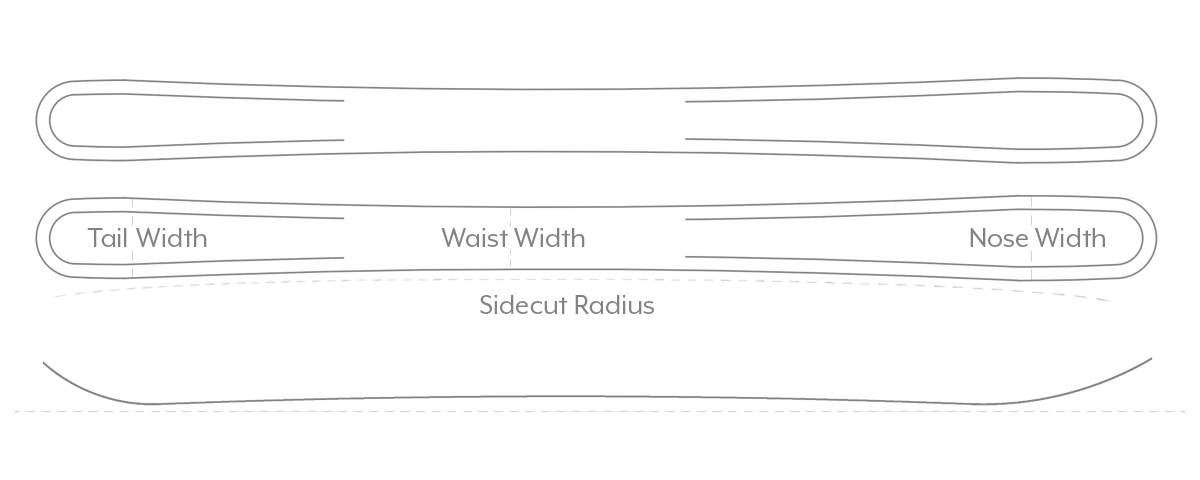 LENGTH NOSE / TAIL WAIST SIDECUT RADIUS
163 131mm / 124mm 99mm 13.0m
173 131mm / 124mm 99mm 15.1m
183 131mm / 124mm 99mm 17.3m
TYPE
SKIS GRAPHICS
Sublimated CORE
Poplar Hardwood
SHAPE
All Mountain BASE
Hybrid Soft Edge & Butter Pad BASE MATERIAL
4001 Sintered Ptex
FLEX

PROFILE
8mm Camber Underfoot
Early Rise Nose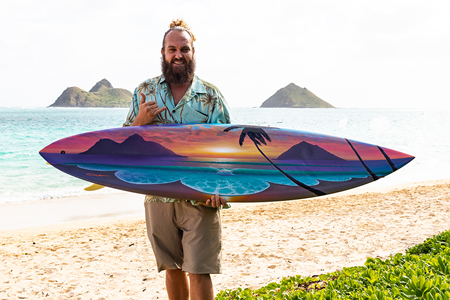 ARTIST BIO: Chris Sebo
In this piece, you will find "Paradise" though Christopher Michael Sebo's eyes. Using spray paints from the can itself, using both hands at the same time, different textile materials like crumpled up newspaper, saucers, torn poster boards, bottle caps, brushes, plastic wrap and whatever else he could find that gives a more profound effect to the canvas. The tremendous detail he creates can be compared to a traditional painter creating distinguish strokes with a brush on canvas only here the techniques start very different. The process begins with a quick stoke spray paint across the canvas, then another here and there building layers of paint, then using the textile materials to rub, scrape, and blend the paint all of a sudden, like a magician with final act to awe you, a spectacular visual appears before your eyes!
Without any formal art training, Chris is consistently developing new techniques to create the desired effects with the paint that match his imagination. You can visit Chris's imagination easily just by taking a look at the wide range of paintings from realistic, surreal, fantasy-like dreamscapes, landscapes, the ocean and its waves in seascapes, wildlife even the outer space, all with expressions of tender explosiveness they seem to reflect a sense of peace and calm in each of them. Sebo's art has been showcased online, newspapers, magazines, and television shows. Enjoy Mahalo!