About Gilson
A brief history
Full story below
From the classroom, to the stable, to one of the most-loved independent brands in snow sports.
Borrowing concepts from surfing and sailing, middle school science teachers Nicholas Gilson and Austin Royer led a class project exploring fluid dynamics in snow. The project began with a rudimentary prototype Nick had built at 14, when he was his students' age. The effort twisted through countless failures, including a board Austin described as, "like trying to ride a canoe down the mountain." Each failure offered new insight, ultimately leading to three innovations and the early Gilson design.

In 2013, Nick and Austin launched the company out of the classroom with their students.

If you're interested in the full Origin Story, read more here.

Consciously Made in America.
100% designed and built in the Appalachian Foothills, ridden and loved by riders in over 40 countries.
Locally Sourced Material
At the core of our products, we build with Pennsylvania Poplar for three reasons. It is the lightest and lowest density hardwood out there, it grows fast and can be sustainably harvested, and it arrives on the back of our Gilson pickup truck. It couldn't be more local.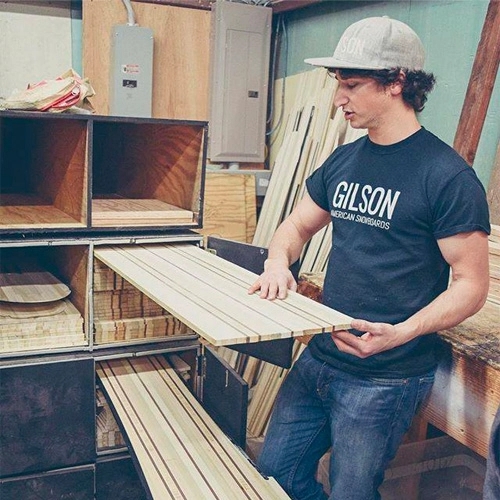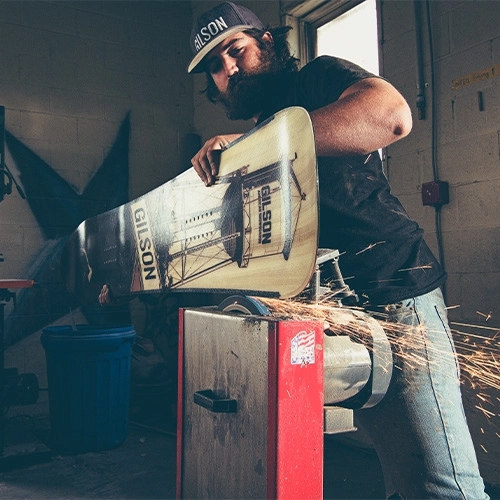 Quality American Craftsmanship
We are located in the heartland of American timber manufacturing. We pair the precision of modern technology with the hand-craftsmanship that has been home to our region for generations. We are certified members of Real American Hardwood and the Keystone Wood Products Association.
Reduced Carbon
The average snowboard and ski materials travel over 12,000 miles before reaching shelves. By tightening our supply chain and building for you instead of a warehouse, we have reduced the carbon footprint in every Gilson snowboard and ski. We are committed to a better way of doing business.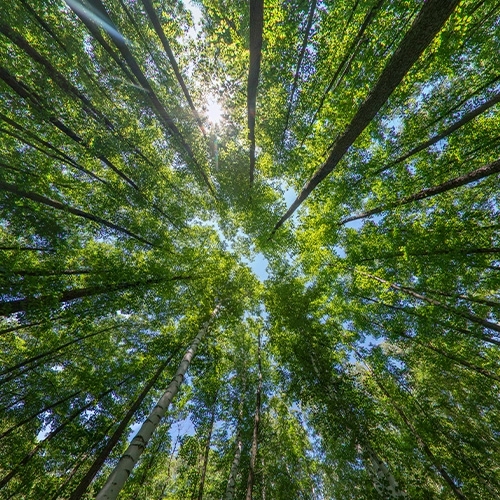 A Message from Nick
I've been asked more times than I can count what really matters in this endeavor and in this life, and my answer has never wavered. It's all about the people. It's about the adventurous people we get to build for all around the world, and it's about the people I get to work with who astonish me regularly with their creativity and deep sense of caring for our work and community.

I built the first prototype for a three dimensional Gilson snowboard in my parents' basement when I was a 14 year old kid. I was building sailboats and shaping surfboards at the time and I didn't understand why snowboards and skis were flat underneath when everything else in this world seems to be curved. I didn't understand a lot of things actually. I am dyslexic, and traditional academia didn't come easily to me. I learned that in order for me to succeed, without exception, I needed to begin with failure.

While the process was initially quite frustrating, I could learn from repeated failures and ultimately achieve success, albeit more slowly than others, and usually in a fundamentally different manner. Gilson Snow was undoubtedly my longest-living process of failure for over 13 years, and for those that rode our early boards, I trust you know what I mean 😉– thank you for your patience.

Without repeated failure, we wouldn't be here today. We do not fear failure; we use it. This process leads us to places and ways of thinking that we could not possibly dream up on the front end. Like me needing to learn in different ways from others as a kid, Gilson Snow has learned to operate in fundamentally different ways from our industry. We are committed to exploring better, more sustainable ways of doing business, and to rethinking everything in our process. Today, we are shipping out to riders and skiers in over 40 countries from our small shop in the Appalachian foothills, and we remain deeply committed to our roots.

Thank you for giving me and our team the trust and freedom to explore new ways of thinking. It is the most crucial factor in our effort to be the absolute best. Thank you for being a part of our reason to exist– it quite simply is all about the people. If you're already in the Gilson community, thank you for your support. We wouldn't be here without you, and we are grateful we get to dedicate every day to building and creating the best possible experiences on the mountain.

If you haven't made the jump yet and are thinking about ordering a new ride from our shop, thank you for your consideration. We'd love to build your new board or skis for you.

With immeasurable gratitude,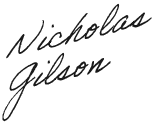 Collections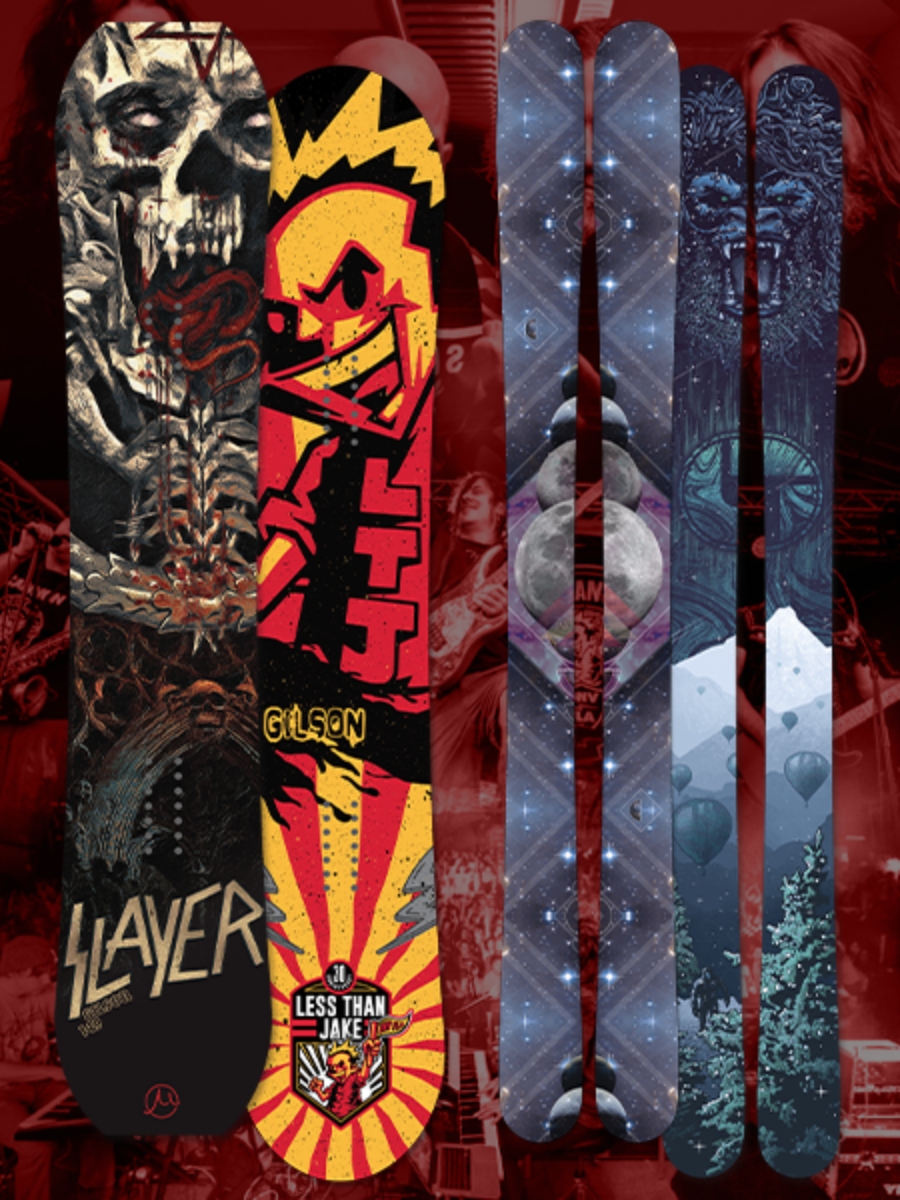 Musician Collection
We've partnered with some of our favorite bands to bring you some incredible artwork to jam out with all winter.
SHOP NOW