Gilson Snow Teamed up with SkiPA and Sheetz to Provide 150 Free Snowboards & Skis to Kids and Athletes in PA
Winfield, PA - Gilson Snow, Pennsylvania's ski and snowboard manufacturer, teamed up with the Pennsylvania Ski Areas Assocation (SkiPA) and PA-owned and operated convenience store chain Sheetz to provide FREE snowboards and skis to 150 children and athletes in the state this winter season.
Located in the Susquehanna River Valley's small town of Winfield, Gilson Snow, a client of the Ben Franklin Technology Partners of Northeastern Pennsylvania, is one of the fastest growing ski and snowboard companies in the country. They handcraft skis and snowboards from sustainably sourced local raw materials right here in PA, and ship them directly to customers all over the world.
"We're excited to be in the position to give back to the community in a way that can help make it easier for kids in the state to get out on the mountain, and to enjoy living healthy active outdoor lifestyles," said Gilson's Chief Revenue Officer, Andrew Mikowski.
"When you look at the winter sports industry, one of the biggest barriers to beginning to ride or ski is the cost involved. The two biggest costs are equipment and lift tickets."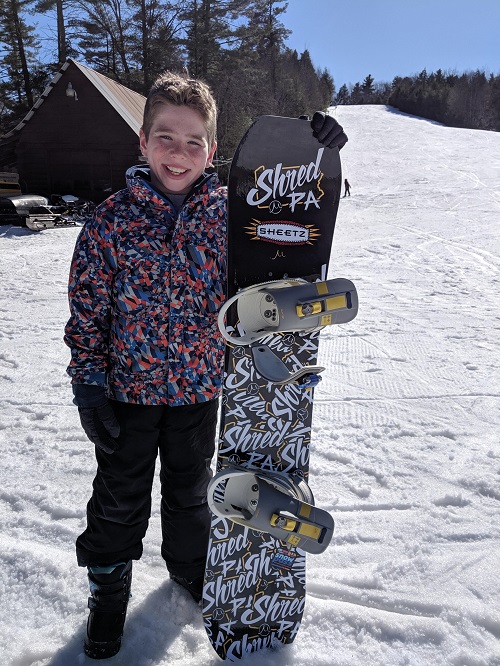 Winner taking his board out for a spin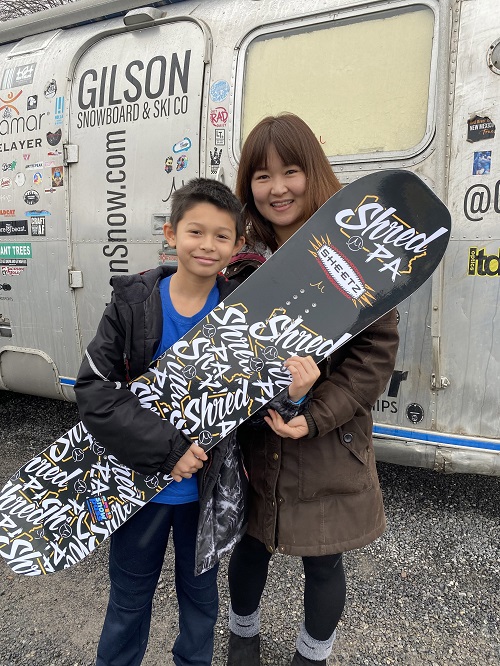 Winner picking up his new board at Gilson HQ
SkiPA operates one of the country's most comprehensive programs to help introduce kids to skiing and snowboarding. This program, called the 4th and 5th Grade Snowpass, allows any child in the 4th or 5th grade to ski for FREE at any of the participating ski areas in the state. For only a $40 processing fee, The Snowpass Program allows for up to 3 lift tickets to each ski area.
"PSAA has enjoyed working with Gilson toward our common goal of growing the sports of skiing and snowboarding, and eliminating some of the barriers to getting involved in the sports," said Linda Irvin, Executive Director of the PSAA. "It has been so exciting for us to be able to offer to our 4th and 5th grade Snowpass holders the opportunity to earn a free Gilson snowboard or skis, while at the same time increasing the number of times they get on snow."
Gilson had the vision to make it as easy as possible to get kids introduced to skiing and riding this year, and wanted to build on the great work that SkiPA has been doing over the past 16 years. Sheetz is another great PA-based company that shared in this vision, and believes in the value of showing kids how fun living an active outdoor lifestyle can be.
"Since Sheetz was founded in 1952, we have been committed to being fully connected to the communities we serve, especially through youth sports," said Sheetz Public Relations Manager Nick Ruffner. "We are so excited that more kids will have the chance to get out onto the mountain and that this partnership will also support our longtime partners at the Special Olympics Pennsylvania."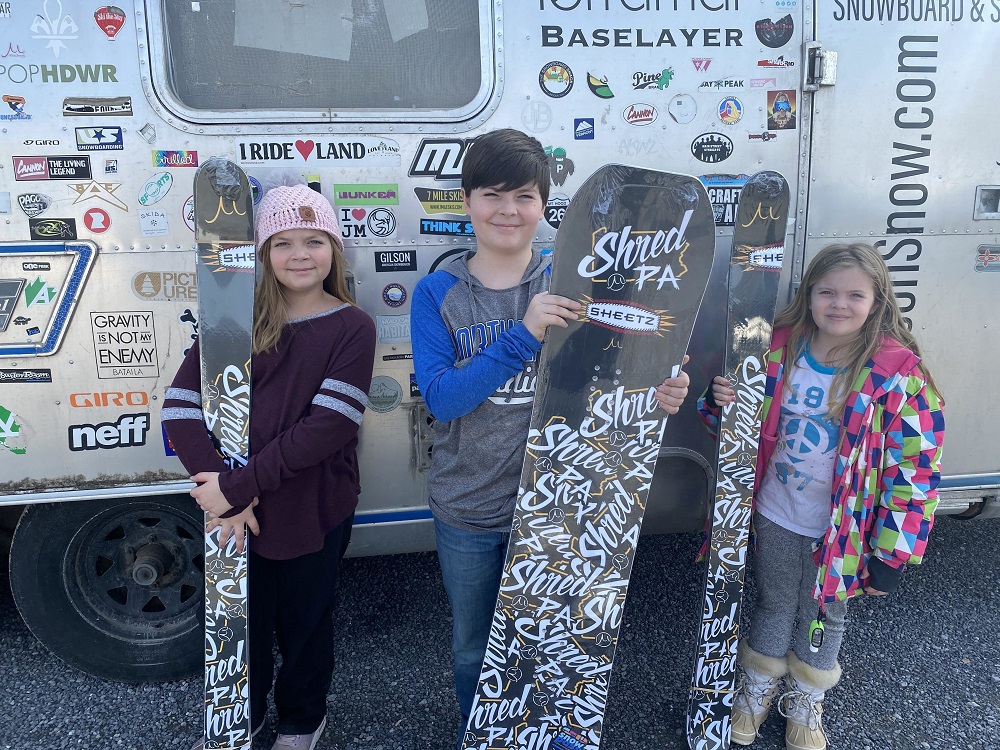 Together, these three organizations aimed to make it as easy as possible for kids and families to get out on the mountain. The results were fantastic. In a challenge to get out onto the mountain five times this winter, over 100 4th and 5th graders in the Snowpass Program met the mark in time to earn their free snowboards and skis.
"Seeing the children come in to our facility with their families and friends to pick up the prizes was too cool," said Mikowski. "For many of them, this was the first board or skis that they've ever owned, and the smiles on their faces were priceless."
About Gilson Snow, Inc.
Gilson Snow Inc. is one of the fastest-growing snowboard and ski manufacturers in the United States. Employing rapid manufacturing processes, Gilson builds snowboards and skis from sustainably harvested local raw materials and ships direct to customers' doorsteps all around the world. Gilson pushes the boundaries of technological and aesthetic design, and prides itself on working with some of the world's most talented artists. For more information, visit www.gilsonsnow.com
About Pennsylvania Ski Areas Association (SkiPA)
The Pennsylvania Ski Areas Association (SkiPA), consisting of member ski areas statewide, is a non-profit assocation that was developed to promote and serve the Pennsylvania Ski Industry. PSAA works to encourage participation and enjoyment of skiing, snowboarding, tubing, and cross-country skiing in Pennsylvania.
About Sheetz, Inc.
Established in 1952 in Altoona, Pennsylvania, Sheetz, Inc. is one of America's fastest-growing family-owned and operated convenience store chains with more than 18,500 employees. The company operates over 580 store locations throughout Pennsylvania, West Virginia, Virginia, Maryland, Ohio and North Carolina. Sheetz provides an award-wining menu of M-T-O sandwiches and salads, which are ordered through unique touch-screen order point terminals. All Sheetz convenience stores are open 24 hours a day, 365 days a year. Recognized by Fortune as one of the 100 Best Companies to Work For, Sheetz is committed to offering employees sustainable careers built on an inspiring culture and community engagement. For more information, visit www.sheetz.com or follow us on Twitter (@sheetz), Facebook (www.facebook.com/sheetz) and Instagram (www.instagram.com/sheetz).