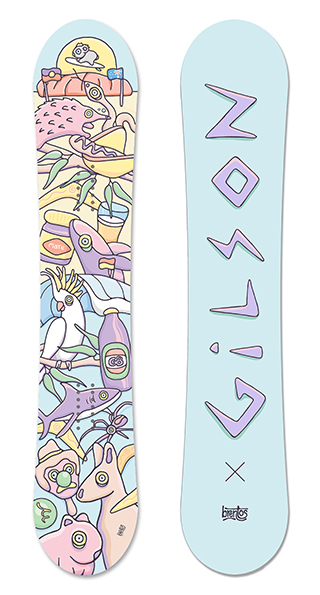 Ridgey Didge
Limited Edition All Mountain Snowboard
$540
RIDGEY DIDGE
Artist: Brentos
We asked a group of 1,000 Australian Riders what they'd love to see on a snowboard that would embody what it means to live in such a beautiful place. Using Gilson's most versatile All Mountain snowboard model, renowned Aussie Artist Brentos took those suggestions turned them into a snowboard with all thing Australia!
With Gilson's Soft Edge, Pow Channel and Central Flex design features, this board will allow you to explore further and have way more fun on the mountain. Cruise through the trees, butter your nose, drop a cliff, lick the snow on a full-out carve, send it off a kicker and then take a few turns with your crew.
Experience a board from the snowboard company that has people all over the world buzzing. Handcrafted, and delivered direct to your doorstep. Order yours today!

LENGTH NOSE & TAIL WIDTH WAIST WIDTH SIDECUT RADIUS
Mens 145 280mm 241mm 7.34m
Mens 150 286mm 246mm 7.85m
Mens 155 293mm 251mm 8.16m
Mens 160 300mm 253mm 7.93m
Mens 165 302mm 256mm 8.77m
Mens 165W 316mm 271mm 8.30m
Womens 140 259mm 219mm 6.51m
Womens 145 261mm 223mm 7.35m
Womens 150 267mm 227mm 7.85m
TYPE
Limited Edition GRAPHICS
Sublimated CORE
Poplar Hardwood
SHAPE
All Mountain BASE
Soft Edge & Pow Channel BASE MATERIAL
4001 Sintered Ptex
FLEX

PROFILE
10mm Camber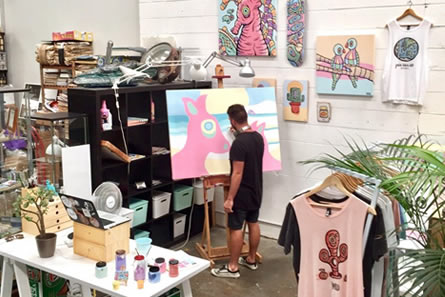 ARTIST BIO: Brent "Brentos" Turner
Brentos is Australian born Brent Turner, a visual artist, illustrator and graphic designer who paints and runs the Brentos brand from his open art studio in Dee Why on the Northern Beaches in Sydney.
Through his work, he tries to capture the Australian spirit drawing on inspiration from our local landscapes and seascapes, our endemic local wildlife and of course the culture of the Australian people.
His work is often described as a uniquely tongue-in-cheek Australian style of modern art that bursts with pastel colors complimented by bold, striking line work – attempting to capture his audience in the moment and taking them on a journey of happiness, discovery and play.
OTHER SNOWBOARDS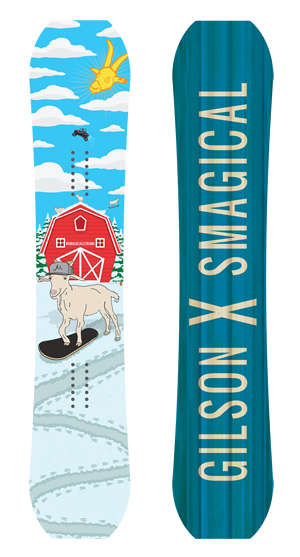 $525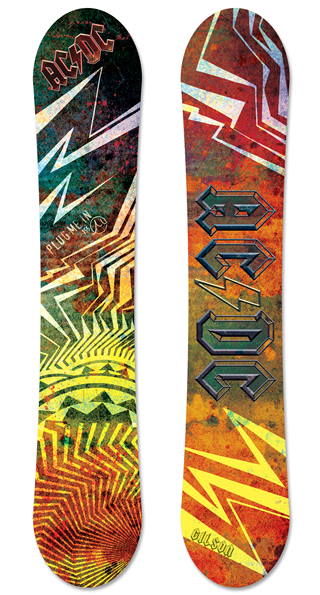 $575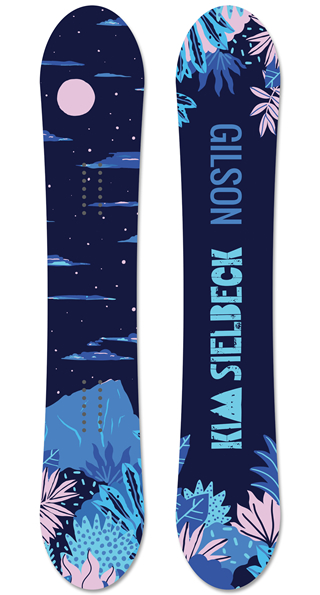 $540